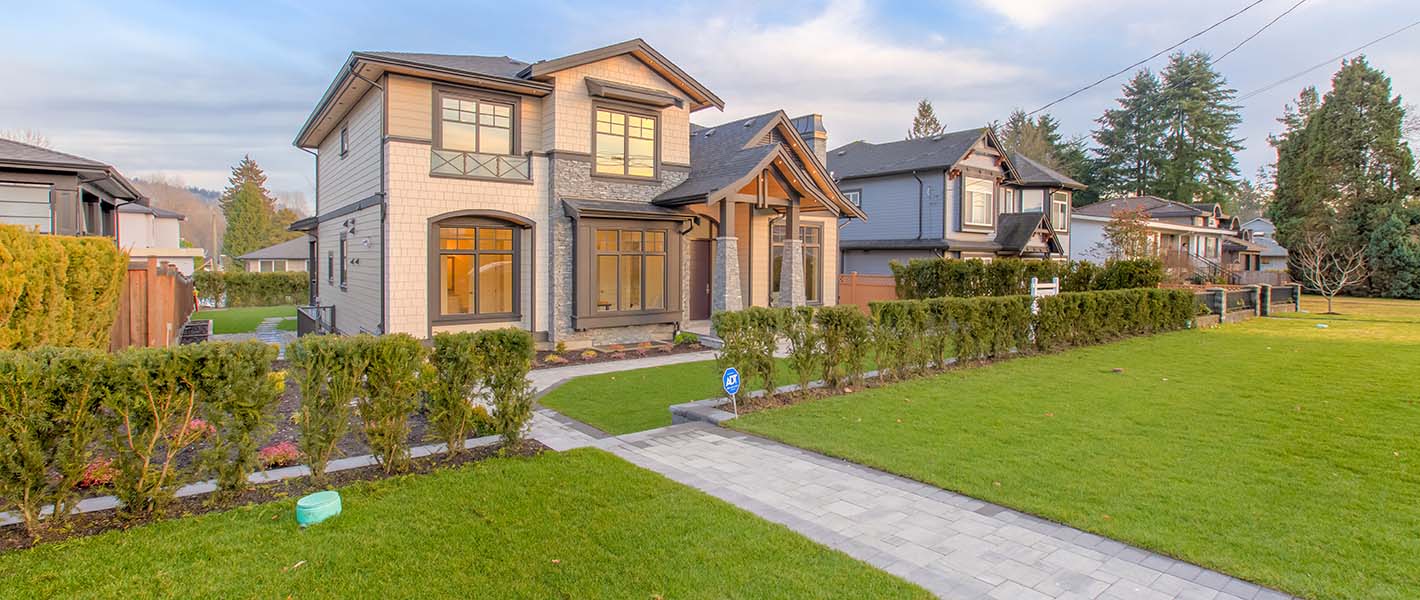 September 30, 2021
One of the easiest pieces of the puzzle to miss when planning your custom Vancouver home will be landscaping and how much it should cost.
It makes perfect sense that this is the case.
During the planning stage, it is easy to get swept away by all of the elements of building a fantastic custom home:
Making sure the architectural plans are perfect
Choosing the most qualified Vancouver custom home builder
Selecting paints and finishes, floor coverings and cabinetry
Choosing appliances and home theatre options
And myriad other elements which will make your Vancouver home truly yours
So it makes sense that landscaping and the associated costs can slip through the proverbial cracks.
This is why it is important to choose the right contractor to guide you through the process as you think about landscaping.
To help you along, here is a brief guide to help you to better understand landscaping and what you should be starting to think about as you plan your Vancouver home.
What Is Landscaping?
Here are some examples of landscaping:
Planting or reseeding a lawn with grass
Planting new trees or working to preserve existing trees
Constructing a fence around the house and/or perimeter of the property (being careful to comply with regulations governing the material used, height, and specific location on the property)
Retaining walls that meet building requirements
a subset of landscaping is "hardscaping", referring to the concrete used in front of the house and from the front sidewalk to the front entrance (different municipal regulations apply throughout Vancouver)
Parking pads with the proper permeability to comply with regulations
The Better Part of Valour is to Create a Longterm Landscaping Plan
The best time to plan the way you'll handle landscaping when you build your custom Vancouver home is before work begins.
Landscaping is a process. And there are lots of reasons you might not want to complete every piece of your landscaping puzzle before you move into your new home:
Cost considerations (initial investment as well as allowing for the possibility that some landscaping options could be more – or less – economical as time passes
A desire to handle different aspects in phases over a period of time (maybe even years) to create a landscaping environment with varying stages of maturity
Having a general idea of what you might want to do but not nailing down every little piece of the puzzle
The Kind of Lot You're Building on Matters
Another point to ponder before you begin will be the kind of lot you'll be building your custom Vancouver home on.
Will it be an empty flat lot devoid of anything but grass?
Or is your lot uneven, full of mature trees, bushes, and a lush lawn?
All of these will be considerations as you go through the process.
This is but one of many reasons it is so important to work with a contractor familiar with all aspects of the process of building a visually stunning Vancouver custom home (and a landscaping plan which will stand the test of time).
Don't Forget Vancouver Landscaping Requirements
The various municipalities which make up Vancouver operate under a complicated patchwork of municipal codes which apply to all homes built within each respective municipality.
Interestingly, not all municipalities within the Vancouver area are the same. Some municipalities have more rigid, arcane landscaping regulations than others, while a few have more relaxed rules when it comes to landscaping.
These landscaping rules and regulations come into play anytime a new home is built (and sometimes when someone remodels an existing home).
It is important to comply with these rules at all times, as the penalties for not doing so can be quite expensive.
Here are a couple of examples of what regulations may require when you build a new home.
In some cases, all that is required is the planting of one or two trees.
Other times, bushes or hedges must be planted at the time of construction.
Any qualified Vancouver builder you choose to work with should be able to walk you through the process of planning your landscaping in a way that meets your needs while being compliant with Vancouver's regulatory codes.
It is important that your builder properly comply with landscaping regulations because you, the homeowner, are ultimately on the hook if they do not follow the letter and the spirit of the law.
How Much Should Landscaping Cost When Custom Building a Home in Vancouver?
Here's the truth about how much landscaping should cost when custom building a home in Vancouver.
It depends.
Yes, nobody likes hearing an answer without absolute specific costs.
However, many variables, preferences, and requirements come into play. Each of these makes it impossible and impractical to state with absolute certain how much your landscaping efforts should cost.
With all of this said, the amount you should allocate for landscaping can be as little as $10,000 and as much as hundreds of thousands of dollars.
Much of this will come down to what you wish to do, though some of it will also include the cost of the trees, bushes, or shrubs you want to plant (as well as the cost of getting them into the ground).
In essence, your landscaping options are literally limitless.
If you choose to work with Larch Construction to build your custom Vancouver home, we will have extensive conversations about all of your options, including learning more about your landscaping desires, as we plan each phase of your project and the associated costs.
Another element that will come into play will be hardscaping and how your hardscaping plan integrates with what you decide to do when landscaping work begins. I'll cover this topic in another post.
The thoughts above are just a few of the details that go into planning custom Vancouver homes that are built to last. There are many pieces of the custom home building puzzle – budgeting, design, planning, building, and many others – that can help you make your Vancouver custom home a reality for you and your family.
When you're ready to begin a conversation about how Larch Custom Home Construction can be a valuable resource in building your custom Vancouver home, you can reach out to us to get started.